Pokemon of the week 3:
Venusaur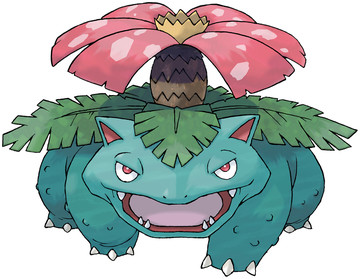 Shiny:
NATIONAL №:
003
TYPE:
GRASS/POISON
SPECIES:
Seed Pokémon
HEIGHT:
6′7″ (2.01m)
WEIGHT:
220.5 lbs (100.0 kg)
ABILITIES:
Overgrow and Chlorophyll (Dream World)
GENDER:
87.5% male, 12.5% female
EV YIELD:
2 Special Attack, 1 Special Defense
EGG GROUPS:
Grass and Monster
CATCH RATE:
45 (5.9% with PokéBall, full HP)
LOCAL №:
003 (R/B/Y, FireRed, LeafGreen) 228 (Gold, Silver)
233 (HeartGold, SoulSilver)
JAPANESE NAME:
Fushigibana
EVOLUTION:
Bulbasaur evolves into Ivysaur at lvl 16, who evolves into Venusaur at lvl 32
OVERVIEW:
At first glance, it may seem unwise to use Venusaur over Roserade, who has higher speed, better Special Attack, and the ability to set up Toxic Spikes. However, Venusaur has a few unique tricks up its sleeves which allow it to function well in OU. Venusaur is much bulkier than Roserade, allowing it to take hits which Roserade isn't able to. Venusaur also has access to Swords Dance and Power Whip, turning it into a frightening sweeper. Other Grass-types such as Shaymin and Celebi don't outclass Venusaur either, because Venusaur's Poison typing allows it to absorb Toxic Spikes, allowing teammates to switch in without being crippled by poison. Venusaur has its own niche, which allows it to function well in OU, but don't go slapping it on every team and expecting it to be wonderful.
_________________
Nintendo 3DS FC - 4983 - 5434 - 0778
Super Smash Bros Brawl FC - 3611-4471-4515
https://www.youtube.com/user/HawkPokemon