Pokemon of the Week 2:
Typhlosion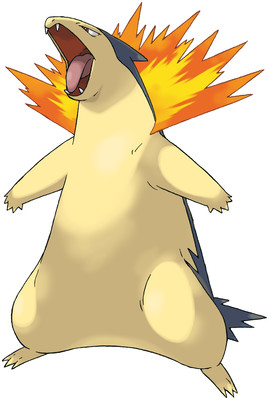 Shiny:
NATIONAL No.: 157
TYPE: FIRE
SPECIES: Volcano Pokémon
HEIGHT: 5′7″ (1.70m)
WEIGHT: 175.3 lbs (79.5 kg)
ABILITIES:
Blaze
Flash Fire (Dream World)
GENDER: 87.5% male, 12.5% female
EV YIELD: 3 Special Attack
EGG GROUPS: Field
CATCH RATE: 45 (5.9% with PokéBall, full HP)
LOCAL No.: 006 (G/S/C, HeartGold, SoulSilver)
JAPANESE NAME: Bakufun
OVERVIEW:
With a high Special Attack stat, a great Speed stat, and a wide variety of attacking options, Typhlosion is a powerhouse in UU. He's one of those Fire-types that you'd use on a Sunny Day team but he can still function outside of them. Typhlosion is also exceptional at abusing Choice items. Despite being incredibly powerful, Typhlosion is not without weaknesses. He lacks specific otherwise important coverage moves, and has to rely on Hidden Power Rock for coverage against opposing Fire-types. Also, Typhlosion is quite difficult to use due to his Stealth Rock weakness, and is relatively easy to counter if you know his set. While Typhlosion faces stiff competition from Moltres, his superior Speed and lesser weakness to Stealth Rock along with access to Eruption are enough to differentiate him from the fire phoenix. If you want a powerful Sunny Day sweeper or a useful Choice Scarf user, you should give Typhlosion a chance. A well-played Typhlosion is capable of demolishing entire teams.
_________________
Nintendo 3DS FC - 4983 - 5434 - 0778
Super Smash Bros Brawl FC - 3611-4471-4515
https://www.youtube.com/user/HawkPokemon